House of Worship Safety Training
April 23, 2018 @ 8:30 am

-

12:30 pm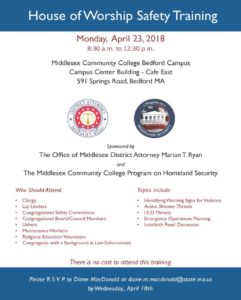 Middlesex Community College
Campus Center Building – Café East
591 Springs Road, Bedford, MA 01730
Sponsors: Middlesex District Attorney Marian T. Ryan, and The MCC Program on Homeland Security
Participating Agencies: Massachusetts State Police, Northeastern Massachusetts Law Enforcement Council, Lowell Fire Department
Middlesex District Attorney Marian Ryan and the Middlesex Community College Program on Homeland Security invite house of worship clergy, staff and congregants to a timely and important discussion of security in an uncertain time. Practical, useful information and best practice tips will be provided by experts from the Massachusetts State Police, municipal police, and the Lowell Fire Department. A panel representing various faith traditions will discuss their concerns, and steps they are taking to increase security without impinging upon the open and welcoming nature of their worship services and parish practices.
Although there is no specific threat in our area, last November's attack against First Baptist Church in Sutherland Springs, Texas, the 2015 attack against Mother Emanuel Church in Charleston, SC, and church attacks in Europe demonstrate the need for prudent planning.
There is no cost to attend this training.
TOPICS:
Ø Violence warning signs
Ø Active shooter threats
Ø Improvised explosive device (I.E.D.) threats
Ø Emergency operations planning
Ø Interfaith panel discussion.
To register please e-mail name, church affiliation and e-mail address to: diane.m.macdonald@state.ma.us.
Registration deadline: April 18, 2018
Related Events