Final Day to Purchase Raffle Tickets for the Ultimate Fenway Experience!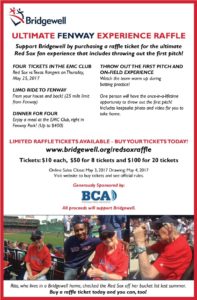 Buy your tickets today for a chance to win the experience of a lifetime for any Red Sox fan!  Go to www.bridgewell.org/redsoxraffle now and enter into the Ultimate Fenway Experience! The winner will receive four (4) tickets to a Red Sox game this season, a limousine ride to and from the game, dinner for all you and all of your guests, and a chance to watch the Red Sox take batting practice and even throw out the first pitch at the game!
Tickets are $10 each, $50 for 8 tickets, and $100 for 20 tickets.
The Ultimate Fenway Experience includes four tickets for the Thursday, May 25, 7:10 PM, Boston Red Sox vs. Texas Rangers at Fenway Park. Package also includes dinner for four at the EMC Club at Fenway Park, round-trip limo service from your home, provided you live within a twenty-five mile radius of Fenway, an on-field experience while the teams are warming up, and the opportunity for one person to throw out the first pitch. The prize is valued as priceless. The raffle will be sold out when $10,000 in tickets are sold.
Raffle Details: Online Sales End on Wednesday, May 3, 2017 at 11:59 PM. The drawing will be on Thursday, May 4, 2017 at Bridgewell's Employee Recognition Night.
Tickets may be purchased in person up to the drawing.
The winner will be notified by email and phone. You will receive a letter with your ticket stub in the mail. This will also be your receipt. You need not be present to win. Bridgewell reserves the right to publish the name of the winner. Completion of online payment forms serves as an electronic signature for raffle tickets.
Net proceeds from raffle tickets will be used to support the general operations of Bridgewell. No returns or refunds.
The value of the prize will be treated as ordinary income to the winner for federal and state income tax purposes, and the winner may be required to pre-pay a portion of the tax liability prior to receiving the prize. The raffle ticket cost is not tax-deductible. The Internal Revenue Service takes the position that no portion of the ticket price will qualify as a charitable contribution for federal income tax purposes.
This raffle is open to all members of the Bridgewell community, however, employees of Bridgewell's  Development & Marketing Department are not eligible to win the prize.
By entering, each entrant acknowledges compliance with these Official Rules. Each entrant must meet all eligibility requirements as required by law. Due to legal restrictions, online raffle ticket purchases are open only to legal residents of Massachusetts.
Any questions, please contact the Development & Marketing Department at Bridgewell at 339-883-2163.
Related Events