CMAA Annual Meeting 2022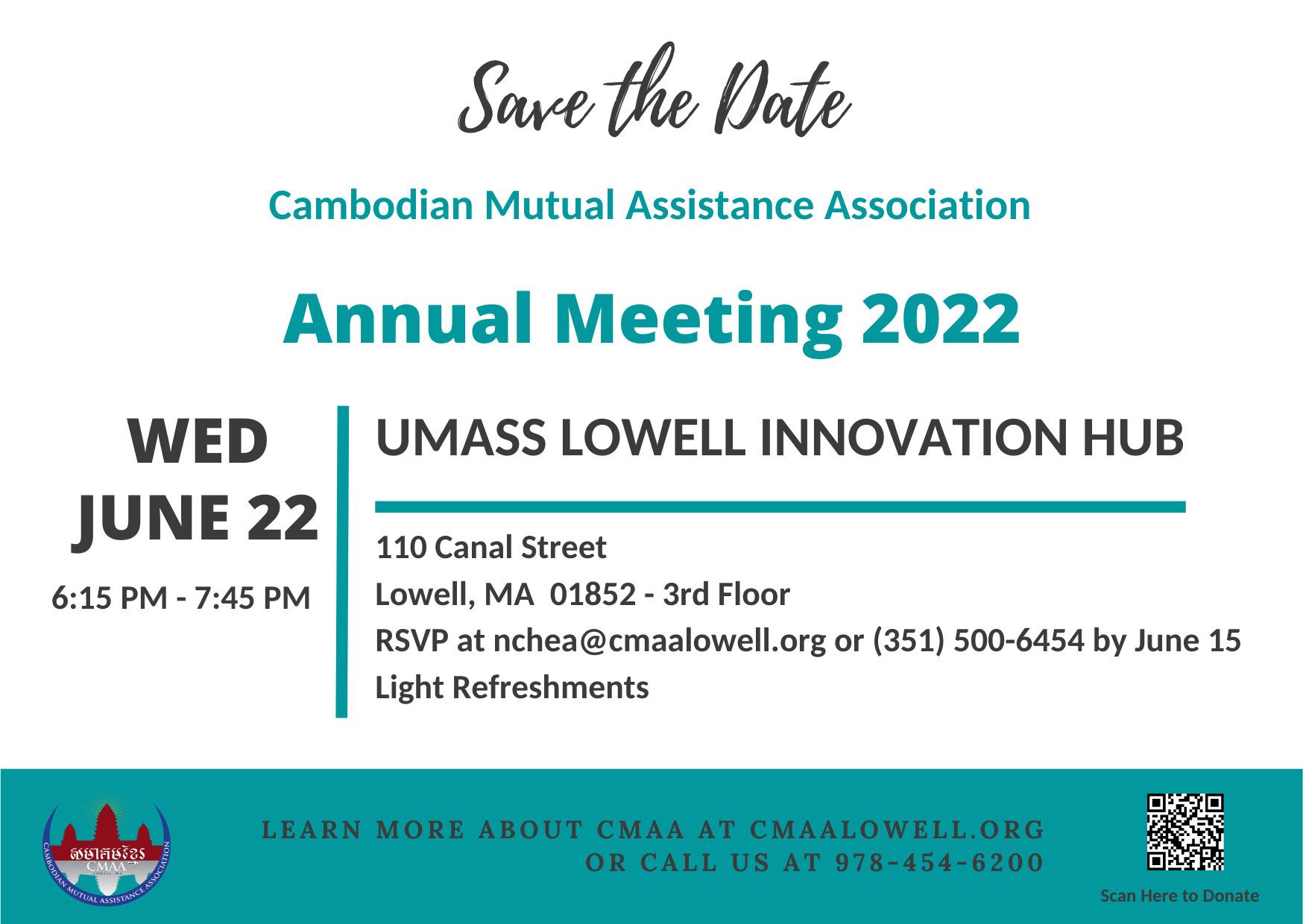 Cambodian Mutual Assistance Association would like to invite everyone to join our up-coming Annual Meeting 2022 on June 22nd to celebrate our 38 years of supporting the Cambodian community and other economically disadvantaged people in the Greater Lowell area.
We hope you can join us in celebrating our achievement and learn about our plan as we move forward. Please feel free to invite anybody you know. The event is free and open to the public, but required RSVP.
សមាគមខ្មែរសូមអញ្ជើញលោកអ្នកចូលរួម កិច្ចប្រជុំប្រចាំឆ្នាំ 2022 របស់យើងខ្ញុំ ដើម្បីជាការអបអរការប្រារព្ធខួប 38 ឆ្នាំនៃការជួយសហគមន៍ខ្មែរ និងអ្នកជួបការលំបាកផ្នែកសេដ្ឋកិច្ចផ្សេងទៀតនៅក្នុងតំបន់ Greater Lowell។
សូមចូលរួមអបអរសាទរការងាររបស់យើង និងសិក្សាផែនការរបស់យើងសម្រាប់ថ្ងៃអនាគត។
កម្មវិធីកិច្ចប្រជុំប្រចាំឆ្នាំនេះ ឥតគិតថ្លៃ និងបើកចំហរជាសាធារណៈ ប៉ុន្តែតម្រូវអោយចុះឈ្មោះជាមុន។
Related Events