Clinical trial Program Series – KEY CONSIDERATIONS AND BEST PRACTICES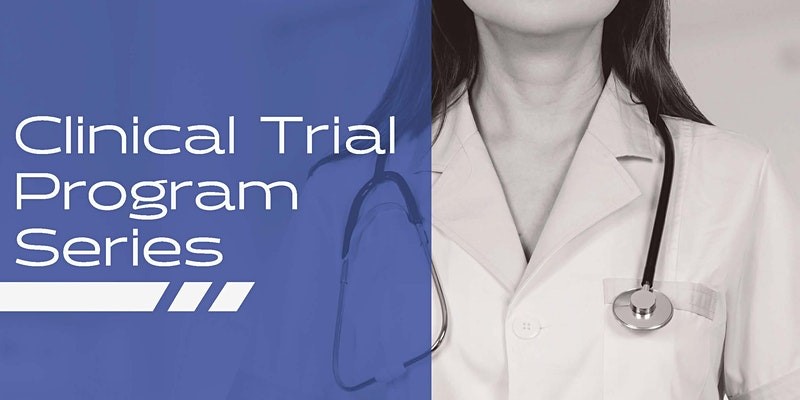 Overview
This program is a series of 3 panel discussions with industry and government partners, focused on providing high level insight into the clinical trial process. Each event will have its own specific focus, while contributing to a sequential flow for the series. Experts from varying backgrounds have been selected for each discussion to help provide a more robust and complete overview of key considerations and event topics for each discussion.
Goal
The goal of this program is to provide early-stage startups, stakeholders, and others, with expert insight and knowledge into the clinical trial process. From attending these discussions, attendees should have a better understanding of clinical trials, the necessary steps needed to develop a plan that will lead to successful study outcomes, insight into key considerations for the process and have a better understanding of what partners to engage with, and when.
Agenda
12:00pm – 12:30pm: Opening Remarks
12:05pm – 12:10pm: Panelist Introductions
12:10pm – 1:10pm: Panel Discussion
1:10pm – 1:25pm: Q&A
1:25pm – 1:30pm: Closing Remarks
Topics
• Regulatory Strategy – Engaging with the FDA, Competent Authorities, etc.
• Trial speed and length
• The relationship between clinical trials and business plans
• Integrating clinical studies with your design control/development activities
• Engaging early on with potential partners
• Importance of developing a plan/strategy
• Sharing of best practices and advice
• Case studies/examples of well-run trials
• Conducting a trial during COVID-19
• Key opinion leaders
• CPT/Reimbursement strategy
Panelists
Stephen Tyrpak – Director, Clinical & Regulatory Affairs, of Garwood Medical
Stephen Tyrpak has spent over 10 years' working on both medical devices and pharmaceuticals in and out of the US. He started his career working on products and therapies within the hospital sector and eventually branched off to help small companies get their proof-of-concept device or pharmaceutical to the clinical setting. He learned early on in his career that small companies face unique obstacles that many are ill prepared for. He has spent years learning and helping companies develop strategies not only to achieve market notification but post-market reimbursement, out of US clearance and Breakthrough Device Designation. His portfolios include experiences in orthopedics, infectious disease, neurology, spine, dementia, diagnostics, genomics oncology, behavioral science, and type 2 diabetes. He is the Director of Clinical and Regulatory affairs for the Buffalo-based startup, Garwood Medical Devices LLC. In his role, he manages the clinical, regulatory, quality and reimbursement teams and has also helped in the company's fundraising activities. Mr. Tyrpak was recognized by Buffalo Business First as one of Western New York's 30 under 30 in 2021.
Kemi Olugemo – Executive Medical Director of Neurology Clinical Development, Ionis Pharmaceuticals, Inc.
Kemi Olugemo, MD, FAAN is a Neuroscience Researcher and Healthcare Advocate. She is currently Executive Medical Director, Neurology Clinical Development at Ionis Pharmaceuticals, Inc.
After earning her undergraduate degree in Clinical Laboratory Science from the University of Massachusetts (Magna cum Laude), Kemi completed her MD at the University of Maryland School of Medicine and remained in Baltimore for her Neurology Residency before undertaking an additional Fellowship in Neuroimmunology & Multiple Sclerosis (MS) at the Maryland Center for MS, also in Baltimore.
As a staff Neurologist and partner in the Charles County Neurology Practice, Kemi introduced a number of novel infusion therapies for the practice's patients which in turn brought her in contact with clinical research organizations, ultimately causing her to join the industry.
Over her 13+ years in clinical research, Kemi has been involved in all phases of clinical development, global medical strategy, business development, and innovations in lifecycle planning. Prior to joining Ionis, Dr. Olugemo held progressive leadership roles at Akcea Therapeutics, Parexel International and Questcor Pharmaceuticals, Inc, and was a long-term consultant in Neurology with Quorum Independent Review Board.
Kemi draws on a diverse set of experiences including being the current Director of Communications at Women of Color in Pharma (WOCIP), Board Member at Watermark (an organization with a mission to empower women to make their mark in their companies, careers and communities) and serving on the Scientific Committee of the International Society for CNS Clinical Trials and Methodology (ISCTM).
Murray Sheldon – Associate Director of Technology and Innovation, FDA
Dr. Murray Sheldon, MD received his medical degree from the University of Michigan Medical School in 1975. He completed his general surgical residency with Kaiser Permanente Medical Center in Oakland, California and his cardiovascular fellowships at the University of California, Davis and the Montefiore Hospital and Medical Center in New York. In 1983, he entered private practice as a staff surgeon at several medical centers in Northern California performing cardiac, thoracic and vascular surgery. In 2003, he chose to become engaged in a highly productive career in the medical device industry, leading device development projects and providing expert consultative services to numerous device development firms. From 2003-2009, Murray was the Medical Director for Arbor Surgical Technologies, which developed a unique two-piece, sutureless aortic valve for clinical aortic valve replacement that was sold to Medtronic. Most recently, prior to joining FDA, he was the Medical Director for the minimally invasive surgical program at BioVentrix, Inc. and developed a catheter-based procedure for surgical ventricular reconstruction for heart failure patients. This device has recently obtained a CE mark in Europe. He also was the Medical Director for Solinas Medical, Inc. and was instrumental in developing a unique device for dialysis access. That device has recently received two 510(k) clearances. Dr. Sheldon joined the FDA in 2013 as the Associate Director for Technology and Innovation. He oversees the Center's initiative to proactively facilitate medical device innovation to address unmet public health needs and to align what is traditionally done at FDA with what is required to support the US medical device ecosystem. His primary focus is working with staff, the medical device industry, the clinical community and others on ways to facilitate bringing innovative medical devices to the patients in the US first in the world. Dr. Sheldon currently leads the Medical Device Payer Communication Task Force, identifying methods to streamline the path from FDA approval to reimbursement.
Bert Hartog – Senior Director, Janssen Clinical Innovation at Johnson & Johnson
Bert leads transformational innovation projects for Johnson and Johnson that have the goal to shape the future of clinical trial execution, and position Janssen as a role model in patient-centered clinical research. He is an industry expert in Global Clinical Operations and Digital Health. He graduated in Biomedicine and obtained a PhD in Medicine from Utrecht University. He worked in Clinical Operations-, QA- and IT-management before joining Janssen's Clinical Innovation team in 2015.
https://be.linkedin.com/in/berthartog
Hui-Hsing Wong – Senior Medical Advisor, Biomedical Advanced Research and Development Authority
Hui-Hsing Wong is a CAPT in the Commissioned Corps of the U.S. Public Health Service and a medical advisor to the Division of Research, Innovation, and Ventures (DRIVe) at BARDA. She has spent almost 15 years of her HHS career working on medical product development and safety, first as a primary reviewer at FDA; then in policy development at the Office of the Secretary where she oversaw the initial development of an active surveillance program for drug safety; reviewed FDA policies, guidances, and regulations at the Office of the Secretary; served as a strategic advisor for KidneyX; and led research projects on the econometric and regulatory aspects of medical product development, particularly incentives for development.
Dr. Wong received a BS from Yale University, a JD from Columbia School of Law, an MD from Baylor College of Medicine. She trained in pediatrics at the Johns Hopkins Hospital. She is a member of the New York State Bar, licensed to practice medicine in Maryland, and is board-certified in pediatrics. She is a part-time staff pediatrician at the Walter Reed National Military Medical Center and an assistant professor of pediatrics at the Uniformed Services University of the Health Sciences in Bethesda, MD.
Moderator: Rachel Rath – Director of BARDA Alliance, Johnson & Johnson Innovation
Rachel is the Director of the BARDA Alliance for Johnson & Johnson Innovation, based at JLABS Washington, DC. She is responsible for managing the BLUE KNIGHT™ collaboration between JLABS and BARDA related to emerging technologies in the areas of chemical, biological, radiological, and nuclear (CBRN) threats, as well as pandemic influenza and emerging infectious disease. Rachel is responsible for collaboratively establishing the strategic direction and oversight of all operational activities related to the collaboration with BARDA, including managing the sourcing and selection of high potential companies and developing global educational programming.
Before joining JLABS, Rachel was the Chief of Staff for the National Evaluation System for health Technology Coordinating Center (NESTcc)—an initiative of the Medical Device Innovation Consortium (MDIC)—that was established with funding from the U.S. Food and Drug Administration (FDA) and was recognized in September 2019 as one of the first collaborative communities with participation by the FDA. Prior to joining NESTcc, Rachel worked at PCORI, helping to launch the Patient-Centered Clinical Research Network (PCORnet), a national effort to engage patients and leverage electronic health data to improve the speed and efficiency of clinical research in the United States.
Rachel received her MBA from Georgetown University and MPH in global health policy from The George Washington University.
Related Events