'Change for Homes' Spare Change Challenge to benefit Habitat for Humanity
October 4, 2017

-

October 31, 2017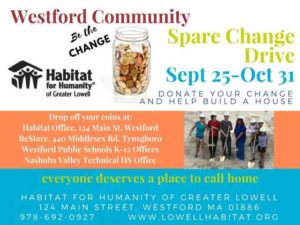 'Change for Homes' Spare Change Challenge
Habitat for Humanity of Greater Lowell is spearheading a 'Change for Homes' Spare Change Drive ongoing until Oct 31!
Any business, local residents, students, and families wishing to contribute to the campaign supporting the Juniper Hill Build Project
in Westford may drop off their spare change at any of these locations:
ALL Westford Public Schools K-12
Nashoba Valley Technical High School, 100 Littleton Rd, Westford
Habitat Lowell ReStore, 440 Middlesex Rd, Tyngsboro
Habitat Lowell Main Office, 124 Main St, Westford

For more info, visit http://lowellhabitat.org/news-events/upcoming-events/ or call 978-692-0927.
Donate Local – Funds Stay Local!  Every Coin Counts!
Related Events