CBA's 6 Degrees of the Acre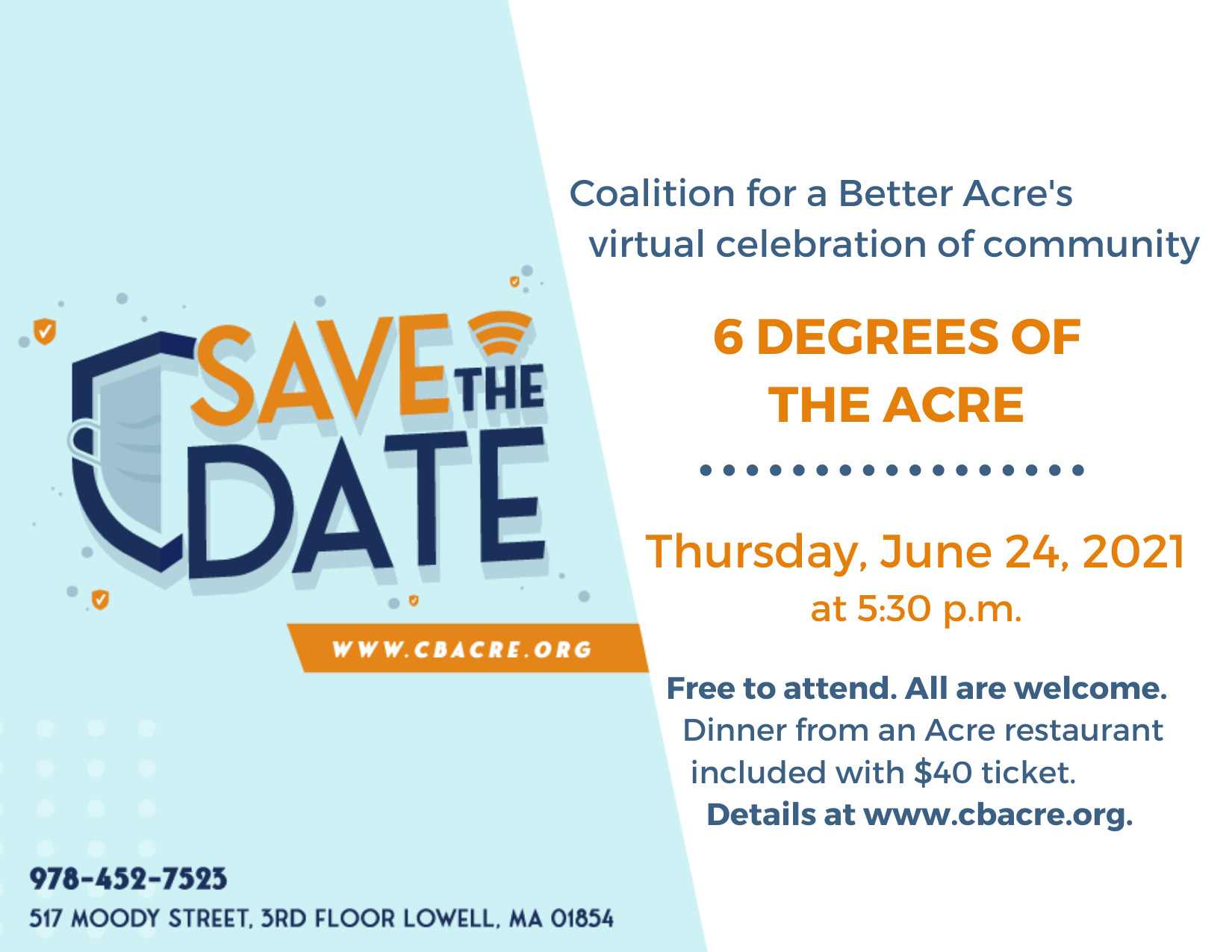 Coalition for a Better Acre (CBA) requests your presence at our virtual 6 Degrees of the Acre event. CBA's 6 Degrees of the Acre event in 2021 will showcase CBA's efforts to provide much-needed affordable housing, as well as programs and services that promote self-sufficiency. CBA chose to host a virtual event to provide a relaxed atmosphere for attendees to learn more about our efforts. While offering a close look at CBA's work, we are also planning to include some of our favorite aspects of the in-person 6 Degrees event, including break-out rooms to network and meals from some of the best restaurants in Lowell, all located in the Acre neighborhood.
Prior to the start of the COVID-19 pandemic, CBA offered programs to eliminate hurdles to economic self-sufficiency; including workforce development, youth development and civic engagement/leadership development. In addition, community events served to engage local residents, potential leaders, and volunteers in the work of neighborhood revitalization. In 2020, CBA resolved to remain flexible to support marginalized groups in our community. Beginning in March 2020, CBA staff reached out directly to 700 households, within and outside our developments, to check in on their needs. Funding and in-kind support made it possible for CBA to provide 38 households with computing/printing technology. Currently, CBA regularly delivers essential items to 90 families.
Sponsors of our 6 Degrees of the Acre will enable CBA to enhance our offerings and deepen our connection with individuals who can benefit from our array of programs. In 2021, CBA is building out a storefront space centrally located on the border of the Acre and Downtown Lowell. This space will become a walk-in center, housing a dedicated food pantry space to house both delivery and walk-in operations, space for a workforce development program offering sewing skills, meeting space for classes (soft skills workforce development, free English classes, and leadership development workshops).
Related Events