Restore It! Ultimate UpCycle Challenge Registration Deadline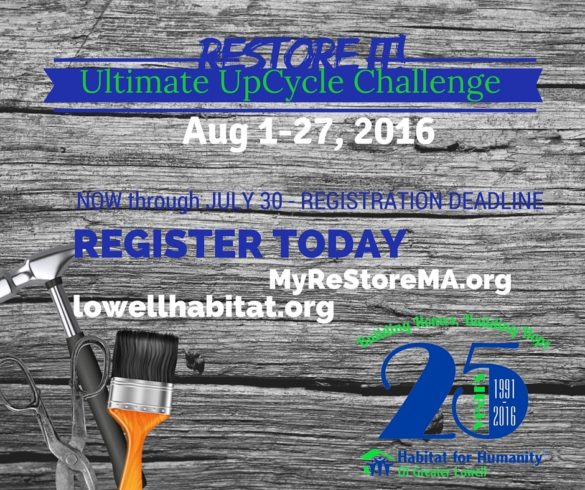 ReStore It! Ultimate UpCycle Challenge to Celebrate 25 years of Habitat for Humanity Greater Lowell
To continue our year-long celebration of our 25th Anniversary, we invite artisans, artists, upcyclers, interior home designers, furniture refinishers and the general public to participate in the ReStore It!  Ultimate UpCycle Challenge taking place August 1-27, 2016.
Anyone who enjoys do it yourself (DIY) projects can refinish, repurpose or reupholster used home furnishings purchased from our HFHGL ReStore into a new piece.  For more info or to register as a participant (deadline July 30), please go to https://lowellhabitat.wufoo.com/forms/restore-it-ultimate-upcycle-challenge-reg-form/  and complete a registration form designating your challenge category: professional or amateur.
A grand prize will be awarded for the best transformation of a piece, as judged by the "ReStore It!" committee and a panel of local upcycling experts, along with a copy of Peter Menzel's book "Material World : A Global Family Portrait". http://www.menzelphoto.com/books/mw.php   Additional gift cards and prize ribbons will be awarded to winners in each division : amateur & professional. The majority of upcycled entries will then be auctioned off to benefit Habitat for Humanity of Greater Lowell.
From Aug 10-25, the public is invited to cast a vote for their favorite entry to determine the
"DIY Inspired People's Choice" winner.  Visit https://lowellhabitat.wufoo.com/forms/restore-it-ultimate-upcycle-challenge-ballot/  One vote allowed per email or telephone #.
Final judging, awards presentation and evening reception will be held on Thursday, Aug 25th, 6-7:30 pm at the Greater Lowell ReStore, with an online silent auction of select upcycled items taking place from Aug 10-27. Anyone can access the auction via URL link or mobile device beginning Thurs, Aug 10 at 9 am and ending Sat, Aug 27 at 3 pm.
Visit https://www.32auctions.com/hfhgl-restore-it-upcycle  to place your online bid(s).
All events are free and open to the public.  Bring your friends!  Share voting & auction URL's and event page with your friends, family members, neighbors, and customers … Let's raise the $1,000 goal!
Habitat for Humanity is working hard in Greater Lowell to build more houses and provide safe housing for low income families.  Visit http://lowellhabitat.org/?p=9655
A word about our Ultimate Upcycle Challenge
Our motivation for this type of event is four-fold: bring attention to reducing household goods in the waste stream; create awareness about repurposing; bring people into http://www.myrestorema.org/  to see what we do; and last but not least, create community excitement and fun!
For more information, contact Heidi Tierney, htierney@lowellhabitat.org  or 978.692.0927
Related Events