4th Annual Mayor's Holiday Rock n' Roll RAFFLE Fundraiser for Homeless Youth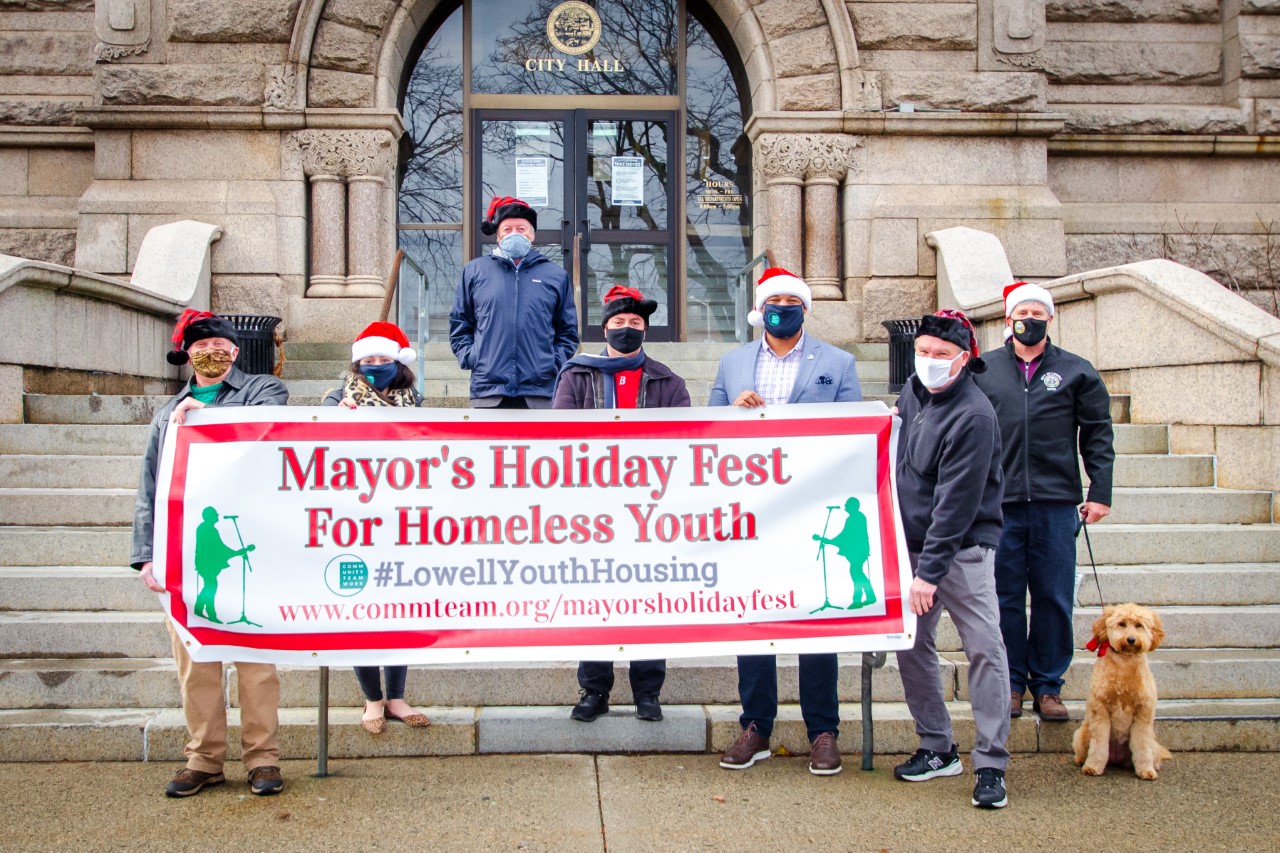 FACEBOOK LIVE: @MayorofLowellMA
https://www.facebook.com/MayorofLowellMA
In spite of this year's limitations on social gatherings, Mayor John Leahy does not want the year to go by without keeping up the Mayor's Holiday Fest tradition began by Senator Ed Kennedy and former Mayor Bill Samaras, by holding a Raffle to raise money for this important cause.
Community Teamwork estimates that there are over 100 young people in Lowell each year who are experiencing homelessness for a variety of reasons including family conflict and abuse, sexual identity, pregnancy, addiction or mental health issues, contact with the juvenile justice system or aging out of foster care. This at-risk youth population is often overlooked.
In response to the need, Community Teamwork's Youth Services Program has built out the Youth Opportunity Center (YOC), a trauma-informed space at 167 Dutton Street, to provide low barrier services and crisis intervention to homeless and at risk youth between the ages of 16-24.
"Although we will miss the bands, and of course singing from Connie Martin, Lowell School Committee Woman, and CTI Division Director, we hope the community will come together to help us raise funds again this year in order to continue to provide important services to our most vulnerable youth in the city," Mayor John Leahy said.
We hope that you will join with us by purchasing Raffle Tickets to help make this year a success!
FOR TICKETS AND SPONSORSHIPS VISIT www.commteam.org/mayorsholidayfest
RAFFLE TICKETS $50 Each for a chance to win one any prize:
-Guitar Signed by Country Music duo Martin and Kelly, including Prize -Pack
-A Day of Beauty by Joni's Makeup and Skincare Boutique
-A Day of Beauty, Haircut and Coloring by Swank Boutique
-1 Free Lenzi's Famous Chicken Pie per month for 12 months
-Various Iconic Items from Local Radio Station 980 WCAP
SPONSOR OPPORTUNITIES
Gold Sponsor: $1,000*
-Logo displayed on CTI Mayor's Holiday Fest website and special —–inclusion in newspaper and radio coverage
-Mention on all social media
-5 complimentary Raffle tickets
*Eligible for a 50% Tax Credit through the Community Investment Tax Credit (CITC) program. Please contact Kplath@commteam.org for more information.
Silver Sponsor: $500
-Logo displayed on CTI Mayor's Holiday Fest website and special -inclusion in the newspaper and radio coverage
-Mention on all social media
-2 complimentary Raffle tickets
Bronze Sponsor: $250
-Logo Mention all social media
-1 complimentary Raffle Ticket
*SPONSORSHIPS OF $1000 OR MORE QUALIFY FOR THE COMMUNITY INVESTMENT TAX CREDIT (CITC) AND ARE ELIGIBLE FOR A 50% CREDIT/REFUND. Donate online or you can also send checks to: Community Teamwork, Inc., c/o Mayor's Holiday Fest, 155 Merrimack Street, Lowell, MA 01852
Thank You Sponsors
Lowell Five, Lowell Sun Charities, Enterprise Bank, Cobblestones, The Worthen House Cafe
Related Events