3rd Annual Winter Mixer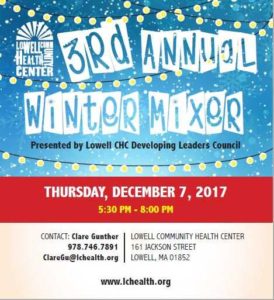 Lowell Community Health Center's 3rd Annual Winter Mixer, presented by Lowell CHC Developing Leaders Council. Proceeds to benefit Teen BLOCK, which supports the healthy development of young people and empowers them to become leaders in the community. Visit us on Facebook www.facebook.com/LowellCommunityHealthCenter or our website www.lchealth.org for more details.
Food, drink, music by Harry and the Squires of Soul, raffles and general festivities. A great way to kick off the holiday season. For the young, and young at heart!
Related Events