2021 DIY Lowell Community Idea Summit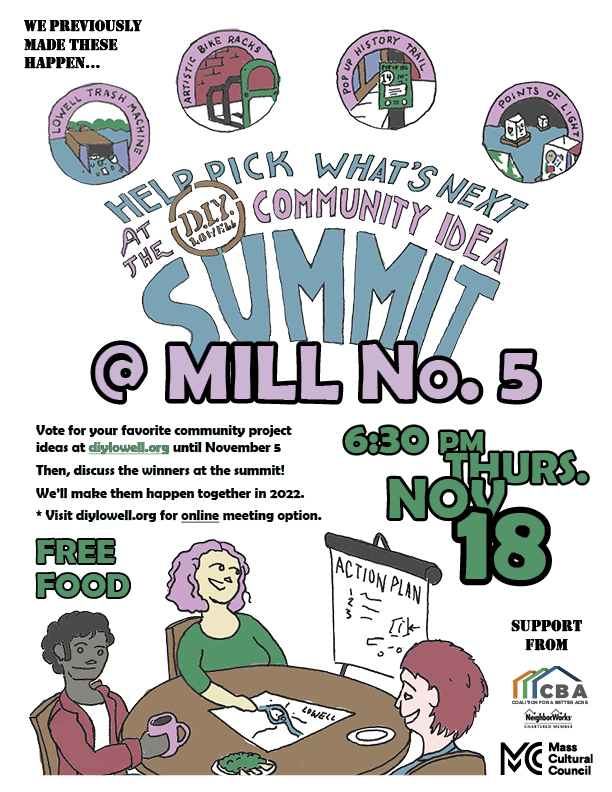 This is THE annual DIY Lowell event that kicks off everything DIY Lowell does. Community members, nonprofit leaders, city officials, and more come together to discuss the winning DIY Lowell ideas–ideas chosen by the community! In addition, we'll discuss a wildcard chosen by the participants of the summit.
DOORS OPEN AT 6:00; PROGRAM BEGINS AT 6:30! LOCATION: Mill No. 5, Fifth Floor, 250 Jackson Street
Not ready for group meetings yet? That's OK: HYBRID ZOOM OPTION AVAILABLE! Registration for hybrid option will be shared soon at https://www.diylowell.org.
The event kicks off with free food and a brief keynote address to get the participants fired up. Then everyone breaks into groups with talented facilitators to make action plans for community ideas. Some of the participants will carry the ideas forward in working groups.
Partake in refreshments!
Meet your community and neighborhood leaders!
Special guest Brad Buitenhuys Brad Buitenhuys of Lowell Litter Krewe will be giving a special kick-off address about how he harnessed community power to clean up Lowell!
Thanks to our sponsors, Lowell Cultural Council, Greater Lowell Community Foundation. Special thanks to our fiscal agent, Coalition for A Better Acre
Related Events