Ronald Couming interviews Trish Blain, Founder of the Ollin Institute, May 7th, 2018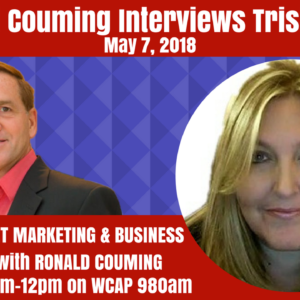 Listen and Learn, Click here for video, Trish Blain, Founder of the Ollin Institute interviewed by Ronald Couming, an Internet Marketing Expert, on the Internet Marketing and Business Solutions, With Ronald Couming Radio show, heard LIVE every Monday on WCAP 980am, 11am-12pm EST, Listen Live Here
For a good portion of her life, she was an overachiever, and pushed to create the visions from driving purpose. She heard over and over that she was too intense, idealistic, unrealistic and even that she was "too good to be true."
For several years now, she saw her path as using her entrepreneurial skills to create a format that would give people a real life experience of what she had learned. She focused on creating businesses, environments and events that embodied The Four Forces.
Create the Experience. Gather the Community. Share the Philosophy.
She held over 300 events and have had several successful retreats. She had meetup groups with over 18,000 subscribers and have been very, very close to manifesting a vision of an innovative meeting space –9 times!! She even have a fully tricked out community hub website built!
She believes that in order to create a new kind of community, new innovative spaces, and amazing "collective ventures" that we could all benefit from – it wasn't enough to have a underlying philosophy, diverse community, compelling common vision, business or even physical space– she had to teach HOW.
Connect and learn more about and from Trish
Having an effective and efficient online presence is vital to a businesses success, and through Digital Marketing, you can Attract, Convert and Retain, your ideal clients to achieve even greater
We at RCS Technology Solutions, LLC provides business owners and entrepreneurs the ability to attract new clients with various Lead Generation services, Convert those leads into clients, and retain those clients, while also converting those clients in raving fans.
Contact Us Info@RCSTechnologySolutions.com 978 606 5432
Subscribe to never miss a video
Ronald Couming, is an Internet Marketing Expert, and the Founder and CEO of RCS Technology Solutions He is an internationally recognized speaker, accomplished author, Radio Show host, and successful entrepreneur. Ronald's passion is helping business owners to " Have even greater success, " by creating scalable and sustainable business models, beyond anything they could ever imagine.
He is, and has been, an "Ask the Expert" (for Internet Marketing) at America's largest trade show for entrepreneurs and small businesses, reaching 14 major US cities and nearly 100,000's entrepreneurs.
Leveraging his diverse background in Internet marketing, technology, self-development, Leadership, team building and entrepreneurship, he has created an innovative approach to helping businesses, and business owners, achieve extraordinary, sustainable success.
Ronald has taught and helped businesses all across the country on how to achieve even greater success with proven Internet marketing strategies, coupled with analytic metrics.
Check our websites and connect with us on Social Media
Facebook RCS Technology Solutions
Comments