Ronald Couming interviews Ronald Adams, Director for Foxboro Consulting Group, September 26th, 2016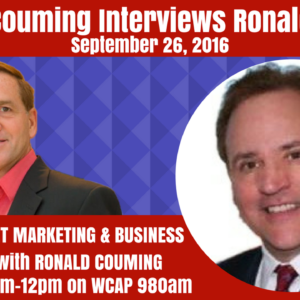 Listen and Learn, Click here for video, Ronald Adams, Director for Foxboro Consulting Group interviewed by Ronald Couming, an Internet Marketing Expert, on the Internet Marketing and Business Solutions, With Ronald Couming Radio show, heard LIVE every Monday on WCAP 980am, 11am-12pm EST, Listen Live Here
My career has been highlighted by hundreds of successes in business valuation, litigation support, and numerous related transactions. I have been directly responsible for substantial revenue growth dating back to when I began my career as a valuator.
I have advised major clients in valuation matters related to mergers and acquisitions, asset divestitures, income tax planning, insurance and property tax appraisals which include General Electric, Raytheon, Perkin Elmer, Waters Corporation, Boston Scientific, Progress Software, Ascential Software, HRPT, and others.
My service as a financial advisor in valuation covers industries such as hospitality/gaming, high-technology, bio-technology, internet/e-commerce, internet, software development, power generation utilities, chemical, pharmaceutical, healthcare, and commercial real estate industries.
I've been recognized by my peers as being organized, having a great command of communication, demonstrating excellent business instincts & business sense, building strong project teams of individuals with varied backgrounds, among other assets.
Connect and learn more about and from Ronald
Having an effective and efficient online presence is vital to a businesses success, and through Digital Marketing, you can Attract, Convert and Retain, your ideal clients to achieve even greater
We at RCS Technology Solutions, LLC provides business owners and entrepreneurs the ability to attract new clients with various Lead Generation services, Convert those leads into clients, and retain those clients, while also converting those clients in raving fans.
Contact Us Info@RCSTechnologySolutions.com 978 606 5432
Subscribe to never miss a video
Ronald Couming, is an Internet Marketing Expert, and the Founder and CEO of RCS Technology Solutions He is an internationally recognized speaker, accomplished author, Radio Show host, and successful entrepreneur. Ronald's passion is helping business owners to " Have even greater success, " by creating scalable and sustainable business models, beyond anything they could ever imagine.
He is, and has been, an "Ask the Expert" (for Internet Marketing) at America's largest trade show for entrepreneurs and small businesses, reaching 14 major US cities and nearly 100,000's entrepreneurs.
Leveraging his diverse background in Internet marketing, technology, self-development, Leadership, team building and entrepreneurship, he has created an innovative approach to helping businesses, and business owners, achieve extraordinary, sustainable success.
Ronald has taught and helped businesses all across the country on how to achieve even greater success with proven Internet marketing strategies, coupled with analytic metrics.
Check our websites and connect with us on Social Media
Facebook RCS Technology Solutions
Comments