Ronald Couming interviews Meaghan Corson, Speaker & Consultant, September 12th, 2016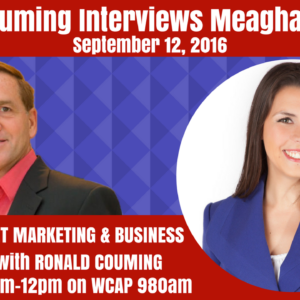 Listen and Learn, Click here for video, Meaghan Corson, Speaker & Consultant interviewed by Ronald Couming, an Internet Marketing Expert, on the Internet Marketing and Business Solutions, With Ronald Couming Radio show, heard LIVE every Monday on WCAP 980am, 11am-12pm EST, Listen Live Here
Communication and presentation skills are incredibly important to being successful in business. With my experience as a former TV news reporter and in video marketing in various industries, I show executives and business professionals how to be successful on camera. Whether it's through one-on-one or group consulting, I evaluate your current skills and work with you to achieve your on camera performance goals. You're able to maximize your media opportunities and to exude expertise when on camera.
Speaking across the US (and soon in other countries) on video marketing and on camera performance is another way I serve businesses. Through keynotes or workshops, I educate audiences on how to use video confidently and efficiently. My goal is to give concrete techniques and action steps, so you walk away with not just ideas for your video strategy but with progress to achieving your goals with video.
Aside from helping executives and businesses with video, I'm passionate about empowering young people to pursue their dreams and setting them up for success for when they enter the "real world." Too often college and university students focus on getting a job to just pay the bills and are bogged down by their student debt. For us to continue growing and improving as a society, our young people entering the workforce need to feel motivated and excited when beginning their careers. Through my presentations, I share my stories as a millennial in the "real world" with techniques on personal branding and networking and dive into how to overcome stereotypes.
I truly enjoy serving others. If you believe you and your organization would benefit from my services, please feel free to reach out.
Connect and learn more about and from Meaghan
Having an effective and efficient online presence is vital to a businesses success, and through Digital Marketing, you can Attract, Convert and Retain, your ideal clients to achieve even greater
We at RCS Technology Solutions, LLC provides business owners and entrepreneurs the ability to attract new clients with various Lead Generation services, Convert those leads into clients, and retain those clients, while also converting those clients in raving fans.
Contact Us Info@RCSTechnologySolutions.com 978 606 5432
Subscribe to never miss a video
Ronald Couming, is an Internet Marketing Expert, and the Founder and CEO of RCS Technology Solutions He is an internationally recognized speaker, accomplished author, Radio Show host, and successful entrepreneur. Ronald's passion is helping business owners to " Have even greater success, " by creating scalable and sustainable business models, beyond anything they could ever imagine.
He is, and has been, an "Ask the Expert" (for Internet Marketing) at America's largest trade show for entrepreneurs and small businesses, reaching 14 major US cities and nearly 100,000's entrepreneurs.
Leveraging his diverse background in Internet marketing, technology, self-development, Leadership, team building and entrepreneurship, he has created an innovative approach to helping businesses, and business owners, achieve extraordinary, sustainable success.
Ronald has taught and helped businesses all across the country on how to achieve even greater success with proven Internet marketing strategies, coupled with analytic metrics.
Check our websites and connect with us on Social Media
Facebook RCS Technology Solutions
Comments