Ronald Couming interviews Jason Freeman, Professional Speaker, Author, September 12th, 2016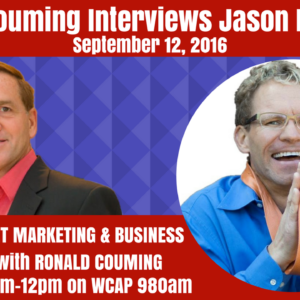 Listen and Learn, Click here for video, Jason Freeman, Professional Speaker, Author interviewed by Ronald Couming, an Internet Marketing Expert, on the Internet Marketing and Business Solutions, With Ronald Couming Radio show, heard LIVE every Monday on WCAP 980am, 11am-12pm EST, Listen Live Here
Jason Freeman, author of "Awkwardly Awesome: Embracing My Imperfect Best", is a Bravery Coach who currently travels the country as a professional speaker. Yet for much of his life, Jason traversed a path of immense struggle. An early, traumatic birth occasioned by the loss of oxygen, resulted in a pronounced speech impediment and coordination awkwardness. Jason let this circumstance become a limitation that profoundly affected his life. He endeavored to become a perfectionist to compensate. Over the last 10 years, through much trial and error, Jason has found a new way of life for himself that has led to greater ease, happiness and success. He now finds immeasurable satisfaction in sharing this joy with family, friends, audiences and clients.
Connect and learn more about and from Jason
Having an effective and efficient online presence is vital to a businesses success, and through Digital Marketing, you can Attract, Convert and Retain, your ideal clients to achieve even greater
We at RCS Technology Solutions, LLC provides business owners and entrepreneurs the ability to attract new clients with various Lead Generation services, Convert those leads into clients, and retain those clients, while also converting those clients in raving fans.
Contact Us Info@RCSTechnologySolutions.com 978 606 5432
Subscribe to never miss a video
Ronald Couming, is an Internet Marketing Expert, and the Founder and CEO of RCS Technology Solutions He is an internationally recognized speaker, accomplished author, Radio Show host, and successful entrepreneur. Ronald's passion is helping business owners to " Have even greater success, " by creating scalable and sustainable business models, beyond anything they could ever imagine.
He is, and has been, an "Ask the Expert" (for Internet Marketing) at America's largest trade show for entrepreneurs and small businesses, reaching 14 major US cities and nearly 100,000's entrepreneurs.
Leveraging his diverse background in Internet marketing, technology, self-development, Leadership, team building and entrepreneurship, he has created an innovative approach to helping businesses, and business owners, achieve extraordinary, sustainable success.
Ronald has taught and helped businesses all across the country on how to achieve even greater success with proven Internet marketing strategies, coupled with analytic metrics.
Check our websites and connect with us on Social Media
Facebook RCS Technology Solutions
Comments