HTTPS is now Mandatory by Ronald Couming, June 25th, 2018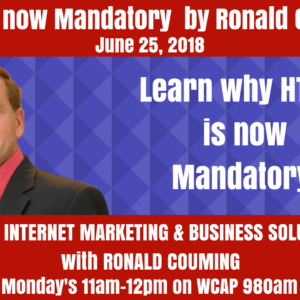 Listen and Learn, Click here for video, HTTPS is now Mandatory by Ronald Couming, an Internet Marketing Expert, on the Internet Marketing and Business Solutions, With Ronald Couming Radio show, heard LIVE every Monday on WCAP 980am, 11am-12pm EST, Listen Live Here
It's not uncommon for people to ignore basic and well-known computer and internet security practices. They don't perform regular backups. They don't use password managers, two-factor authentication, or even different passwords for different accounts. They click on links in phishing emails. They know better but they don't bother until they get burned. Then, of course, it's too late.
Businesses are like individuals in this regard. Increasing security gets put off or ignored because it's too expensive, too much hassle, too disruptive or doesn't produce immediate gains. When you or I play fast and loose with security, we're usually the only one who gets hurt. When a business with a website does the same thing, they're not the only ones at risk. The people who visit the website can get hurt as well.
Google is trying to do something about this by pressuring companies to provide more security for the people who visit their websites. Look at the URL in the address bar in the above image. It begins with "https" which tells you something important. Any communication you have with this webpage is secure because it's encrypted. Google doesn't have any problems with webpages like this.
Google is pushing back against webpages with URLs that begin with "http" – no "s" – because they don't encrypt communication between the user and the website. Communication may not be secure and the user's interactions with the website can be hacked.
The internet would be a safer place if all website traffic was encrypted and Google is trying to pressure companies into encrypting their websites with the HTTPS protocol by warning users about unencrypted sites. Beginning in October, Google's Chrome browser will display the message "Not Secure" in the address bar when users interact with an unencrypted webpage.
Having an effective and efficient online presence is vital to a businesses success, and through Digital Marketing, you can Attract, Convert and Retain, your ideal clients to achieve even greater
We at RCS Technology Solutions, LLC provides business owners and entrepreneurs the ability to attract new clients with various Lead Generation services, Convert those leads into clients, and retain those clients, while also converting those clients in raving fans.
Contact Us Info@RCSTechnologySolutions.com 978 606 5432
Subscribe to never miss a video
Ronald Couming, is an Internet Marketing Expert, and the Founder and CEO of RCS Technology Solutions He is an internationally recognized speaker, accomplished author, Radio Show host, and successful entrepreneur. Ronald's passion is helping business owners to " Have even greater success, " by creating scalable and sustainable business models, beyond anything they could ever imagine.
He is, and has been, an "Ask the Expert" (for Internet Marketing) at America's largest trade show for entrepreneurs and small businesses, reaching 14 major US cities and nearly 100,000's entrepreneurs.
Leveraging his diverse background in Internet marketing, technology, self-development, Leadership, team building and entrepreneurship, he has created an innovative approach to helping businesses, and business owners, achieve extraordinary, sustainable success.
Ronald has taught and helped businesses all across the country on how to achieve even greater success with proven Internet marketing strategies, coupled with analytic metrics.
Check our websites and connect with us on Social Media
Facebook RCS Technology Solutions
Comments