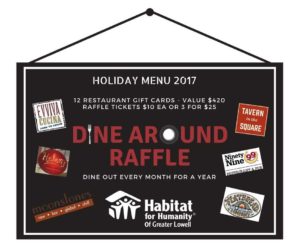 Habitat Lowell – Holiday Dine Around Raffle : Dine Out Every Month for a Year!
Win a basket of gift certificates for fine dining at some of our favorite restaurants in Northern Middlesex County.
Habitat Lowell has put together a special holiday raffle to tantalize your taste buds!
Donated gift cards included in the raffle (valued at $420) are from:  99 Restaurant, Capellinis, Cheesecake Factory, Evviva Cucina, Flatbread Company, Good Thymes (2), Helen's, Moonstones, Sorentos Italian Gourmet, Tavern in the Square, Venetian Moon.
Raffle tickets are only $10 or 3 for $25, hardly the cost of 12 meals. Tickets are available until December 21st online at http://bit.ly/dinearoundraffle2017 …OR…at Habitat Lowell, 124 Main St, in Westford during regular business hours.
One lucky winner will get the opportunity to dine at some popular hot spots – drawing will take place on Dec 22nd just in time for Christmas!
For more info, visit http://lowellhabitat.org/news-events/upcoming-events/ or call 978-692-0927.

Proceeds benefit the revitalization project in Acre Neighborhood of Lowell – the ninth & tenth homes to be started in Spring 2018 as well as a Community Park on Franklin Street.